2021 WSCC Dirt-X Event 3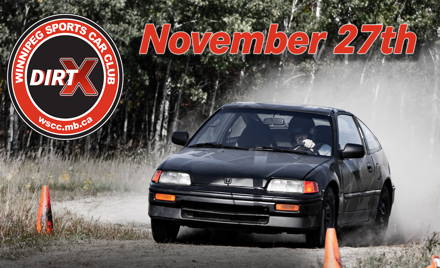 Winnipeg Sports Car Club
Saturday, November 27, 2021
WSCC Dirt-X Proving Grounds
,
Petersfield

,

Manitoba


Come and join us in the middle of a field for a Saturday of excitement!
Winnipeg Sports Car Club presents a day of:
OPEN TRACK ON THE DIRT!
***THE MOST FUN YOU CAN HAVE FOR $50!***
NOTE:

THIS IS PRE-REGISTRATION ONLY!


WE NEED 15 ENTRIES BY NOVEMBER 20th TO GO RACING!!!
PLEASE REGISTER NOW. IT COSTS NOTHING TO PUT YOUR NAME ON THE ROSTER.
REGISTRATION FEES WILL BE CHARGED NOVEMBER 26th ONLY IF WE ARE RACING.
ENTRY FEE INCUDES A HOT MEAL AND A BEVERAGE!



***CLOSED, PRIVATE EVENT - OPEN TO REGISTERED DRIVERS ONLY***
ENTRANTS ARE PERMITTED ONE PIT-CREW MEMBER!
OPEN TO ALL EXPERIENCE LEVELS
MOST MAKES AND MODELS ACCEPTED
RELAXED ENVIRONMENT, DRIVE AT YOUR OWN PACE

Come out and see what the all the fuss is about!
***PLEASE SEE NEXT PAGE AND READ ALL EVENT REQUIREMENTS***